ISAF Group began its consolidation in the year 2007, with a takeover by the current management, which has continued to invest over the years, acquiring other companies of the group.
ISAF Group currently consists of several autonomous corporate structures, mainly specialized in the processing of sheet metal, each being equipped with the latest technologies.
The Group enhances the experience of its staff with constant training and updating, keeping up with the best manufacturing techniques, increasing professionalism gained through previous work experience by adding to it ISAF's skills and expertise
The Group's philosophy has allowed the development of consolidated relationships with its customers, providing an updated, responsible and on time service, able to support a diversified production.
The Group also cooperates with selected suppliers to guarantee the availability of the best raw materials and the achievement of the required objectives, according to high quality standards.
Thanks to its cutting-edge sheet metal working machinery, the ISAF Group can start small or large productions, unique pieces or series. Product development can be customized upon the client's request, thus improving its functions and optimizing the manufacturing and industrial processes.
The materials include steels, stainless steels, special steels, aluminum, copper and brass.

Services offered include:
Laser, plasma and oxy-fuel cutting, 3D cutting, laser tube cutting
Punching and deformation
Bending, roll bending and paneling
Robotic and manual welding
Machining
Installation and assembly
Polyurethane foaming
Surface treatments, sandblasting, tumbling, deburring
Gray and ductile iron castings
The Group is structured to provide a full and thorough response to all customers' needs , through the various productive capacities. Each company is in fact specialized in a specific type of processing and is, therefore, able to offer special services that make it unique and essential within the strategic philosophy of the group.
In collaboration with qualified and selected outside vendors, the products may receive additional treatments such as painting, galvanizing, burnishing.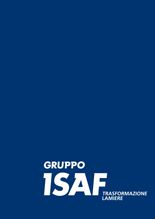 Click on the picture to download the brochure of the Group.
ISAF Group also owns complementary units that are active in different industrial sectors.
Silea is a designing, manufacturing, trading and servicing company for fuel, liquefied gas and industrial fluids distribution equipment and for its dedicated components.
The brand BYSTEEL, owned by Forlì Lamiere, is a leader in the design, manufacturing and distribution of aluminum and stainless steel furniture and its accessories.