CO2 Laser Cutting
• 1 Adige Sala Laser
Working range: 1500 x 3000 mm
3500 Watt power laser
Cutting thickness:
Steel: 20 mm
Stainless steel: 12 mm
Aluminum: 8 mm
The laser cutting system is served by an automated warehouse, with 54 racks, with a dimension of 1500x3000 mm each.

Bending
• 1 AMADA HFE 3i 220-3 bending machine
220 Ton x 3100 mm
• 1 AMADA HFE 3i 100-3
100 Ton x 3100 mm
The company has at its disposal press brakes that are able to perform any sheet metal bending process, with high precision and maximum attention to detail.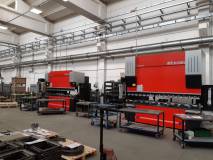 Punching
• 2 Rainer PRO 15/30 / Rainer 3020R punching machines
Power: 32 Ton
28 Stations
5 Rotating stations for deep drawing and threading
The punching system allows the execution of cuts, deformations, threads and markings. It is equipped with a rotating head ,with an excellent operating flexibility and a wide range of machining operations.
Welding
6 Manual welding stations with pulsed arc TIG and MIG/MAG
Including 1 box dedicated to the welding of stainless steel


Shot Blasting
• 1 Shot blaster
Working range: 1400x1400x1400 mm
Shot blasting is not only a process that changes the looks of parts and components, defining the roughness and the decorative appearance of the product, but is also the most effective way to obtain clean surfaces.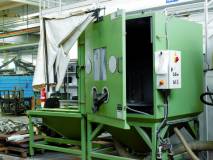 Polyurethane Foaming
• CANNON Foaming Machine
Working range: 1250x2400 H 500 mm
Foaming, where possible, is an excellent solution to prevent loose seals, simplifying the construction of the required product, reducing the costs, increasing its quality and efficiency.