CO2 Laser Cutting
• 1 Adige Sala Laser
Working range: 1500 x 3000 mm
3500 Watt power laser
Cutting thickness:
Steel: 20 mm
Stainless steel: 12 mm
Aluminum: 8 mm
The laser cutting system is served by an automated warehouse, with 54 racks, with a dimension of 1500x3000 mm each.

Bending
• 1 AMADA HFE 3i 220-3 bending machine
220 Ton x 3100 mm
• 1 AMADA HFE 3i 100-3
100 Ton x 3100 mm
The company has at its disposal press brakes that are able to perform any sheet metal bending process, with high precision and maximum attention to detail.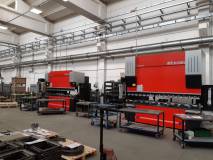 Punching
• 2 Rainer PRO 15/30 / Rainer 3020R punching machines
Power: 32 Ton
28 Stations
5 Rotating stations for deep drawing and threading
The punching system allows the execution of cuts, deformations, threads and markings. It is equipped with a rotating head ,with an excellent operating flexibility and a wide range of machining operations.
Welding
6 Manual welding stations with pulsed arc TIG and MIG/MAG
Including 1 box dedicated to the welding of stainless steel


Polyurethane Foaming
• CANNON Foaming Machine
Working range: 1250x2400 H 500 mm
Foaming, where possible, is an excellent solution to prevent loose seals, simplifying the construction of the required product, reducing the costs, increasing its quality and efficiency.